Topcon MC-R3 Dual Antenna GX-55 GPS Kit
Topcon MC-R3 Dual Antenna GX-55 GPS Kit for sale, been shop tested, serviced and calibrated by Topcon in compliance with Topcon working standards. All gears is fully functioning and works flawlessy condition
Topcon MC-R3 Dual Antenna GX-55 GPS Kit for sale, Topcon Ready Grader Kit and works on multiple machines. This equipment has been shop tested, serviced and calibrated by Topcon authorized in compliance with Topcon working standards. All gears are fully functioning and work flawlessly.
Kit Includes:
1X Topcon GX-55 Display with Automatics Enabled, 3DMC Software with Grader OAF's
1X Topcon MC-R3 Dual Port Receiver with full auto's
2X Topcon GPS Antennas with twin antenna mount and index ring
Topcon Main fall Sensor
1X Topcon Slope Sensor
1X Radio Antenna 450-470 Digital UHF
1X Topcon Transport Case for GX-55 and GPS antenna
TOPCON MC-R3 3D GPS+ SYSTEM
Topcon MC-R3 3D GPS+ system developed specifically for machine control applications, the MC-R3 Controller combines the latest GNSS receiver technology, wireless modems, several communication port options, and System Five valve controller into one robust unit. The MC-R3 contains all receivers, radios, and controllers in a single tough housing. A built-in MINTER panel provides status lights and function keys for easy performance verification and system checks. The MC-R3 also features an ethernet port, robust processing power, and additional valve drivers for the widest array of machine compatibility.
Features & Benefits
G3 Tracking technology
Most advanced GLONASS and GPS dual frequency RTK satellite tracking system
Network capable receiver with GSM / CDMA
UHF & Spread Spectrum radio options
LED indicators for satelite tracking and controller status
Advance Multipath Reduction (AMR)
In-band Interference Rejection (IBIR) option
Compliance with CMR and RTCM industry standard
Flash download capability (application code revisions in the field)
System Five Controller
Ethernet and RS-232 and RS-485 serial connection to GPS receivers and valve controller board
Valve Drivers
SIM card slot for use with optional GSM radio modem
Rugged housing form OEM and aftermarket applications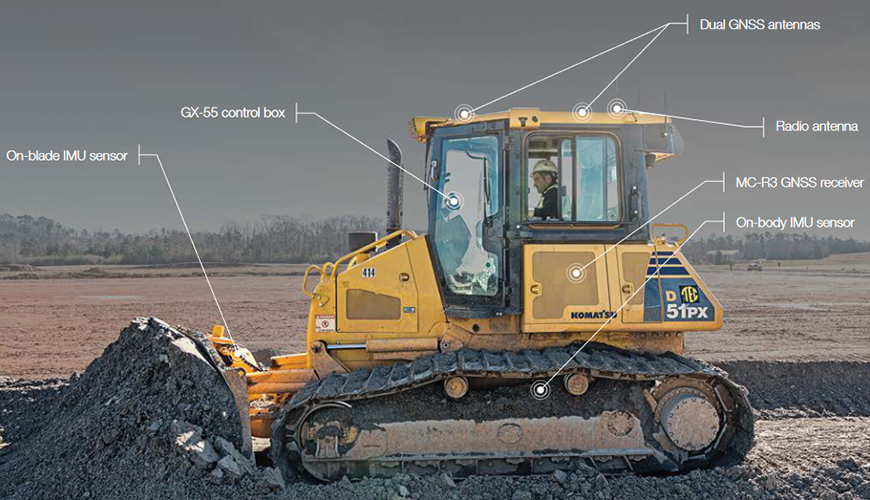 Topcon GX-55/GX-75 Tactile Control Box
High-quality machine control graphical displays in two size formats to let you select the one that best fits your needs. The GX-55 conserves space in smaller machine cabs, while the larger GX-75 provides more viewable screen area. They can both handle rugged field conditions while instantly displaying the real-time location of the machine, bucket, etc. and project design information.
Sunlight-viewable, color, touchscreen LCDs
GX-55 in 6.5 inch format
GX-75 in larger 10 inch format
Integrated grade indicator LEDs
Weather protected USB port for easy data transfer
Topcon 3D-MC2 /TS-i3 Inertial Measuring Unit/Tilt Sensor
Double your grading speed with near finished grade precision no matter how complex the design, with unmatched accuracy and speed. Stay on grade and eliminate string lines by adding the compact TS-i3.
Unparalleled productivity
Repeatable accuracy and smoothness
Increase speeds up to 200%
Resources