Used Leica Nova MS50
Used Leica Nova MS50 for sale, Angle Accuracy 1", Reflectorless R2000. Lightly used year 2013, still like new in excellent condition, fully serviced and calibrated by Leica Certified service, ready  to go to survey
Used Leica Nova MS50 for sale, Angle Accuracy 1", Reflectorless R2000. Lightly used year 2013, low hours used and still like new, everything is in excellent perfect working order condition. Been shop tested, checked and calibrated by Leica Certified service, ready to go to survey and works great with Leica working standards, the sytem unused stored ready for sale since last service.
Includes;
Leica Nova MS50 1" R2000 MultiStation
Radio Handle: RH16
HHM007 Tape + GHT196 holder
Lens Hood
Rain Cover
GKL341 multi-bay charges
Case
Leica Nova MS50
The world's first MultiStation, new dimension in measuring technology can combine total station functionality, GNSS connectivity, digital imaging and 3D laser scanning in a single instrument. Features outstanding precision, accuracy, efficiency, quality and versatility. The MS50 provides an angular accuracy of 1" (according to ISO 17123-3) and a new optical-distance measurement system (EDM) based on wave form digitizing technology. The EDM measurement accuracy is 1 mm + 1.5 ppm onto prism (according to ISO 17123-4) and 2 mm + 2 ppm for measurements onto any surface.
Leica Nova MS50 embodies 90 years of innovative thinking of Leica Geosystems to develop precise, reliable and flexible technologies.
The Leica MS50 is part of the Leica Nova solution which contains:
Outstanding surveying instruments, built on the latest technologies,
Integrated dataflow, straightforward and easy to understand workflow,
Services and support, accessible worldwide.
Faster, Better, Smarter, Simpler. These key words describe the benefits of Leica Nova; an unique solution that covers the complete process from capturing and visualising data, taking decisions and delivering. The Leica Nova MS50 includes precise 3D laser scanning, extensive and precise total station capabilities, digital imagery and GNSS connectivity. Thanks to mergeTEC, the Leica Nova MS50 not only combines the hardware but also merges the data itself; images are synchronised with 3D laser scans and the scans tied into total station measurements. The Leica Nova MS50 allows the user to decide on site which measurement technology to use to fulfil his measurement tasks. The results are available directly in the field, for example the volume of a stockpile derived from point clouds which have been scanned with the Leica Nova MS50.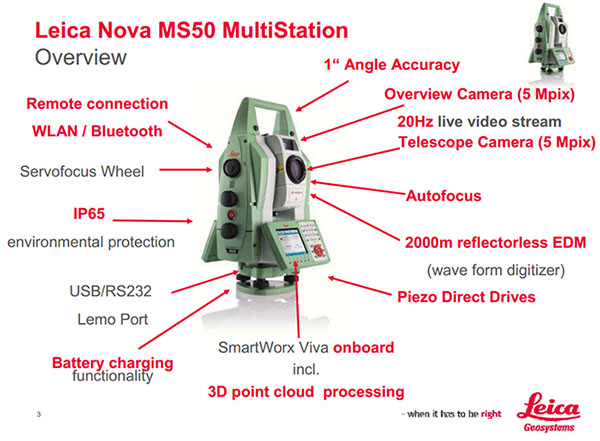 INTEGRATED SCANNING OF EVERY DETAIL
The Leica Nova MS50 integrates 3D point cloud measurements into a regular survey workflow. This lets you collect and visualise your topographic survey data together with detailed high-precision scans. Save time by checking your data for integrity and relevance and avoid costly reworking or returns to the field. Benefit from better decisions with richer and more detailed data.
PROVEN TECHNOLOGY FOR UNMATCHED VERSATILITY
The Leica Nova MS50 provides proven total station functionality with superior sensor integration for highest precision, performance and full automation of measurement procedures. Together with the benefits of GNSS connectivity, the Leica Nova MS50 offers complete versatility by delivering reliable results wherever and whenever you need them.
IMAGE ASSISTANCE FOR EVERY SITUATION
The Leica Nova MS50 features an overview camera and a telescope camera with 30x magnification and autofocus. State-of-the- art image processing technology delivers live fluid video streaming of highest image quality. The imaging capabilities of the Leica Nova MS50 open up new opportunities of operating the MultiStation in an almost infinite range of applications.
LEICA NOVA MS50 MULTISTATION TECHNICAL SPECIFICATIONS
ANGLE MEASUREMENT
Accuracy Hz and V
Absolute, continuous, quadruple
1" (0.3 mgon)
DISTANCE MEASUREMENT
Range
Prism (GPR1, GPH1P)
Non-Prism / Any surface
1.5 m to >10000 m
1.5 m to 2000 m
Accuracy / Measurement time
Single (prism)
Single (Any surface)
1 mm + 1.5 ppm / typ. 1.5 s
2 mm + 2 ppm / typ. 1.5 s
Laser dot size
at 50 m
8 mm x 20 mm
Measurement technology
Wave Form Digitising
coaxial, visible red laser
SCANNING
Max. Range
/ Range noise
(1 sigma)
1000 Hz mode
250 Hz mode
62 Hz mode
1 Hz mode
300 m / 1.0 mm at 50 m
400 m / 0.8 mm at 50 m
500 m / 0.6 mm at 50 m
1000 m / 0.6 mm at 50 m
Visualisation of point cloud
Onboard 3D point cloud viewer, including true colour point clouds
IMAGING
Overview and telescope camera
Sensor
Field of view (overview / telescope)
Frame rate
5 Mpixel CMOS sensor
19.4° / 1.5°
Up to 20 frames per second
MOTORISATION
Direct drives based on Piezo technology
Rotation speed / Time to Change Face
max. 200 gon (180°) per s / typ. 2.9 s
AUTOMATIC AIMING (ATR)
Range ATR mode / Lock mod
Circular prism (GPR1, GPH1P)
360° prism (GRZ4, GRZ122)
1000 m / 800 m
800 m / 600 m
Accuracy / Measurement time
ATR angle accuracy Hz, V
1" (0.3 mgon) / typ. 2.5 s
POWERSEARCH
Range / Search time
360° prism (GRZ4, GRZ122)
300 m / typ. 5 s
GUIDE LIGHT (EGL)
Working Range / Accuracy
5 –150 m / typ. 5 cm @ 100 m
GENERAL
Autofocus telescope
Magnification / Focus Range
30 x / 1.7 m to infinity
Display and Keyboard
VGA, colour, touch, both faces
36 keys, illumination
Operation
3x endless drives, 1x Servofocus drive, 2x Autofocus keys, User-definable SmartKey
Power management
Exchangeable Lithium-Ion battery with
internal charging capability
Operating Time 7–9 h
Data storage
Internal memory / Memory card
1 GB / SD card 1 GB or 8 GB
Interfaces
RS232, USB, Bluetooth, WLAN
Weight
MultiStation incl. battery
7.6 kg
Environmental specifications
Working temperature range
Dust & Water (IEC 60529) / Blowing rain
Humidity
–20°C to + 50°C
IP65 / MIL-STD-810G, Method 506.5-I
95%, non-condensing