Used Artec Leo for sale
Best deals used Artec Leo for sale with Artec Studio 15 Pro Lifetime License, 1 Year extended warranty and 30 days money back guarantee
Best deals used Artec Leo for sale with Artec Studio 15 Pro Lifetime License, 1 Year extended warranty by Artec and 30 days money back guarantee, low hours used for couple projects, well taken care of by owner
The owner are done and want to liquid this excellent used artec leo for sale, everything is still in perfect condition and ready to working order to scan. The artec leo 3d scanner sale in the original hard case with artec studio 15 professional lifetime license, all power and usdb cords, extra smart Li-Ion battery and battery charger, 1 year Artect extended warranty and 30 days money back guarantee applies
Artec Leo 3D Scanner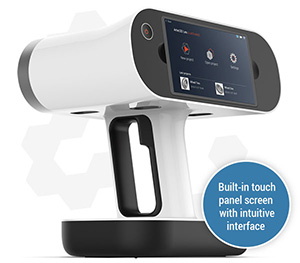 The world's first best 3D scanner with truly wireless and AI-driven handheld 3D scanner, offer onboard real-time processing without a computer or tablet during 3D capturing process. With the most intuitive workflow, it makes 3D scanning as easy as taking a video, full color 3D model built directly. Connect wirelessly to a second screen, with a built-in battery pack, ergonomic grip, and a minimalist design, Artec Leo is a perfect solution for 3D scanning objects even in hard-to-reach locations.
Artec Leo Easy 3D scanning, a smart professional 3D scanner HD Display for a next-generation user experience
The first 3D scanner to offer onboard automatic processing, Artec Leo is able to provide the most intuitive workflow, making 3D scanning as easy as shooting a video. As you scan your object, see the 3D replica being built in real time on Leo touch panel screen. Rotate the 3D model, see if you have captured all areas, and fill in any parts you have missed.
The Leo is a handheld 3D scanner with a processor and other electronics packed inside. That means it does not need an external computer to function. The scanner has a large field of view, and can reconstruct a 3D object in digital form at 80 frames per second. Once rendered, the digital models show a pristine level of detail. If you want to create a model of a friend through 3D printing, Artec could create a frighteningly accurate replica.
The revolutionary Artec Leo 3D scanner builds on the success of the Artec Eva and Artec Space Spider. However it has the additions of a touchscreen, onboard processing with a quad core processor and onboard solid state storage. The portable 3D scanner also has a capture speed of 80 FPS, five to ten times times that of competing scanners. In addition, it has almost three times the scan volume of others.
Unusually for a handheld 3D scanner, the Artec Leo carries its own internal computer complete with a 5.5″ touchscreen. This allows you to inspect the model and look for any areas you missed without the need to connect to an external computer. Therefore, the Leo is perfect for 3D scanning in challenging environments where you are pushed for time or space. This 3D scanner features an integrated power pack and is ergonomically constructed. Therefore, it is a great choice for where a mains power supply may not be available. Additionally, it has a new, better, and more balanced design that provides for easier access to difficult-to-reach areas as well as wireless operation. As a result, it's apparent that Artec is committed to developing technology that can stay up with today's industries. While simultaneously being as simple and straightforward to use as any other video camera.
Artec Leo is an award-winning handheld 3D scanner as it captures a full size car into a digital 3D model, houghfully designed to ensure you get the best 3D scanning experience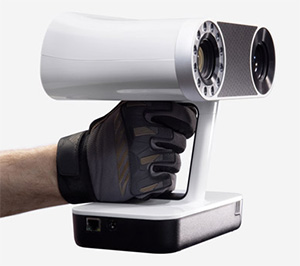 100% Wireless 3D Scanning And Data Transfer
The Artec Leo has a long-lasting battery, interactive touchscreen, scan-to-cloud, Wi-Fi connectivity, and remote control.
All available directly from the device itself, you don't need additional devices, power or data cables for 3D scanning for a hassle-free experience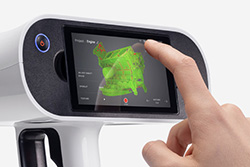 Real-Time 3D Model Preview With A Dedicated 5.5″ Touch Panel
Access the controls, the 3D scanning process, and scan data directly. Touchscreen builds a real-time replica you can interact with. Visual guides show the quality of data in different regions of your scan so you can capture best results every time.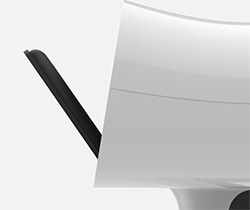 Tilting Screen For Easy Viewing At All Times
Artec Leo's compact and ergonomic design already makes it possible to scan in tight spaces or from awkward angles. The interactive display also tilts to give you added flexibility you need to maximize the freedom of movement. Use the scanner in many more ways.